What does it mean to thrive? According to dictionary.com, thrive means:
1. to prosper; be fortunate or successful.
2. to grow or develop vigorously; flourish
While not yet thriving financially (as an artist), I am definitely grateful to be growing and developing and feel extremely fortunate. I feel like a thriving artist!
For the past several months, I have been a part of the Thriving Artists Project, led by Melissa Dinwiddie, which has the goal to "bust the starving artist mentality." Interviews with thriving artists are a part of the project and I recently listened to one with painter, Carol Marine, who is making a living by leading workshops and selling her paintings on eBay and in galleries.
She talked about how the art school she went to really did not teach her everything she needed to learn about painting and they reinforced the whole concept of the starving artist. She was given the message that, if you made money from your art, you were a sellout. Carol did not subscribe to that concept. She really started thriving when she became involved in the "painting a day" movement and began selling her small, daily paintings on eBay. Very inspiring!
So, the point of this post is three-fold.
1. The Thriving Artists Project has really got me thinking and doing things differently. If being a thriving artist is something you are interested in, the doors will be opening again in March with yearly memberships. To learn more, visit The Thriving Artists Project.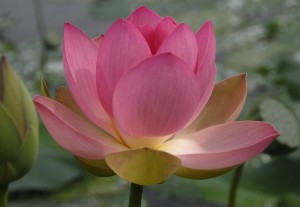 2. In pulling together all of my records for 2010 taxes, I realized that I have quite an inventory of matted and packaged prints, ready for framing. With Carol Marine's inspiration, I will be offering new prints weekly on eBay. The first one, Lotus Bloom (pictured to your right), was added last Friday, and is up for bidding for the rest of this week.
3. If you are in the Indianapolis area, I will be offering a workshop on "Photographing Spring," Sunday April 17th, from 1 p.m. to 4 p.m. We will meet at Art IN Hand Gallery in Zionsville for discussion and instruction, then spend at least an hour and a half photographing in that lovely town, just north of Indy. For more information or to register, click here.
Have a great week!