The next session of my six week online workshop, Photo By Design, begins March 3rd. If you've experienced one of my month-long workshops, you've had a taste of what I offer.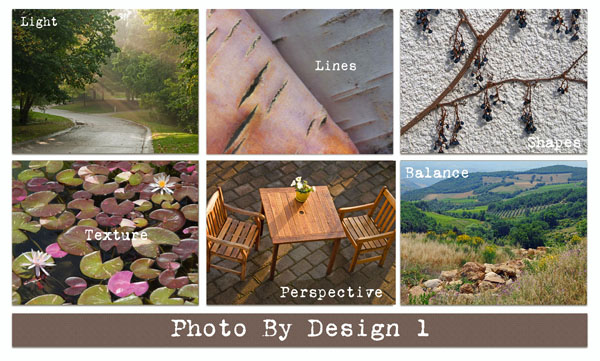 This workshop is more intense – one downloadable lesson plus four supporting emails per week – and all about learning to see in brand new ways.
Specifically, we learn to become aware of the underlying visual elements that make up an image — light, lines, shape, and texture — by focusing on one topic per week. We learn to see from different perspectives.

But, most importantly, we experience the world we inhabit every day in a whole new way.

Here are some of the comments I've received from past participants.
Because of this course I think and see differently…. more FOCUSED perhaps. Also it is just so much more fun to get out and take photos!!
I am looking out of the window watching the sun rise over the mountain. Light, colour, shadow, line and form are all changing by the minute. I am not holding a camera at all. Helping me to see and appreciate all of this is the real value of this course.
That's IT, right? Yes- seeing things differently. I wish everyone would make "seeing things differently" a discipline. We would live in a whole different world.
I really enjoyed exploring perspective this past week. I found myself getting more interested and involved the longer I explored my subject. I felt really involved in the process, trying out different possibilities, not just trying to get the one perfect shot…it felt like play.
This was the first workshop I created in homage to my mentors, Freeman Patterson and Andre Gallant, who taught me visual design. If you've not yet been a part of this signature workshop, I hope you'll consider joining me as we welcome spring.

It starts in two weeks – Monday, March 3rd. Learn more and register here.